You could definitely use a calculator or Google.
But if you would like to do this by hand, you can without too much trouble.
Written explanation continues below the video.
It's possible you recognize that 196 is a perfect square. If you do, but you're not sure what it is, 196 is definitely an even number. So you can divide by two.
It turns out that 196/2 is 98, which you can also divide by two.
So 2 x 2 x 49 = 196. You should recognize 49 as being a perfect square.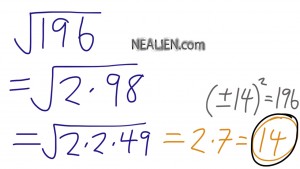 So the square root of 196 simplified is 14.
And it's good to know that you can square a negative number and the square will be positive.
The convention of saying "the" square root means one, but it's good to know about multiple solutions.
Additional Problems: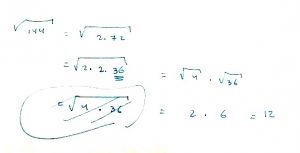 And some numbers that aren't perfect squares,
Try finding
1. The square root of 20
2. The square root of 228
3. The square root of 52