I've drawn a triangle that has an angle close to 90°, it's looks more like 85°. That is to make it look like a triangle rather than a degenerate triangle (straight line). But I have used the values of the sides for when the triangle has a ninety degree angle.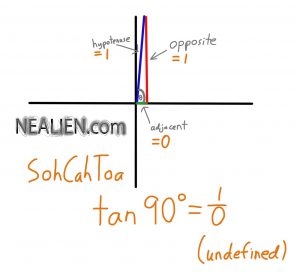 As you go from 85° to 90°, the adjacent side goes from being small to being zero.
Using SohCahToa, you can get the tangent of theta by dividing the opposite by the adjacent side.
1/0
Which is either undefined (in earlier classes) or something like ∞. The limit from the right and left changes the sign though.